Ignite curiosity and build habits of learning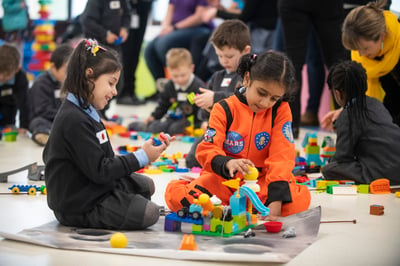 Grades PreK-1; Ages 4-6
With FIRST® LEGO® League Jr. Discovery Edition, children harness their natural curiosity using LEGO® Education STEAM Park and build habits of learning as they grow their understanding of gears, motion, measurement, and solving problems together.
Practitioners receive guided materials and everything they need to get started.
For Teachers: Theme-specific Team Meeting Guides to walk through each session.
For Students: Engineering Notebooks and Discovery Sets to use in their sessions.
Students also receive a Discover More Set, bringing their learning experience home to parents and family.
Practitioners and children love learning
with FIRST LEGO League Jr. Discovery Edition
"We have really enjoyed taking part in the program and feel that the children have thoroughly enjoyed these sessions! It has enabled us to develop more open opportunities for developing their problem solving skills and certainly enabled us to build on their communication and teamwork skills." — FIRST LEGO League Jr. Discovery Edition practitioner.