FIRST® Tech Challenge
It's Way More Than Building Robots

Students in grades 7-12 explore the possibilities of STEM through a semester-long course that provides the opportunity to work as designers and engineers as they design, build, program, and operate robots to complete a themed challenge.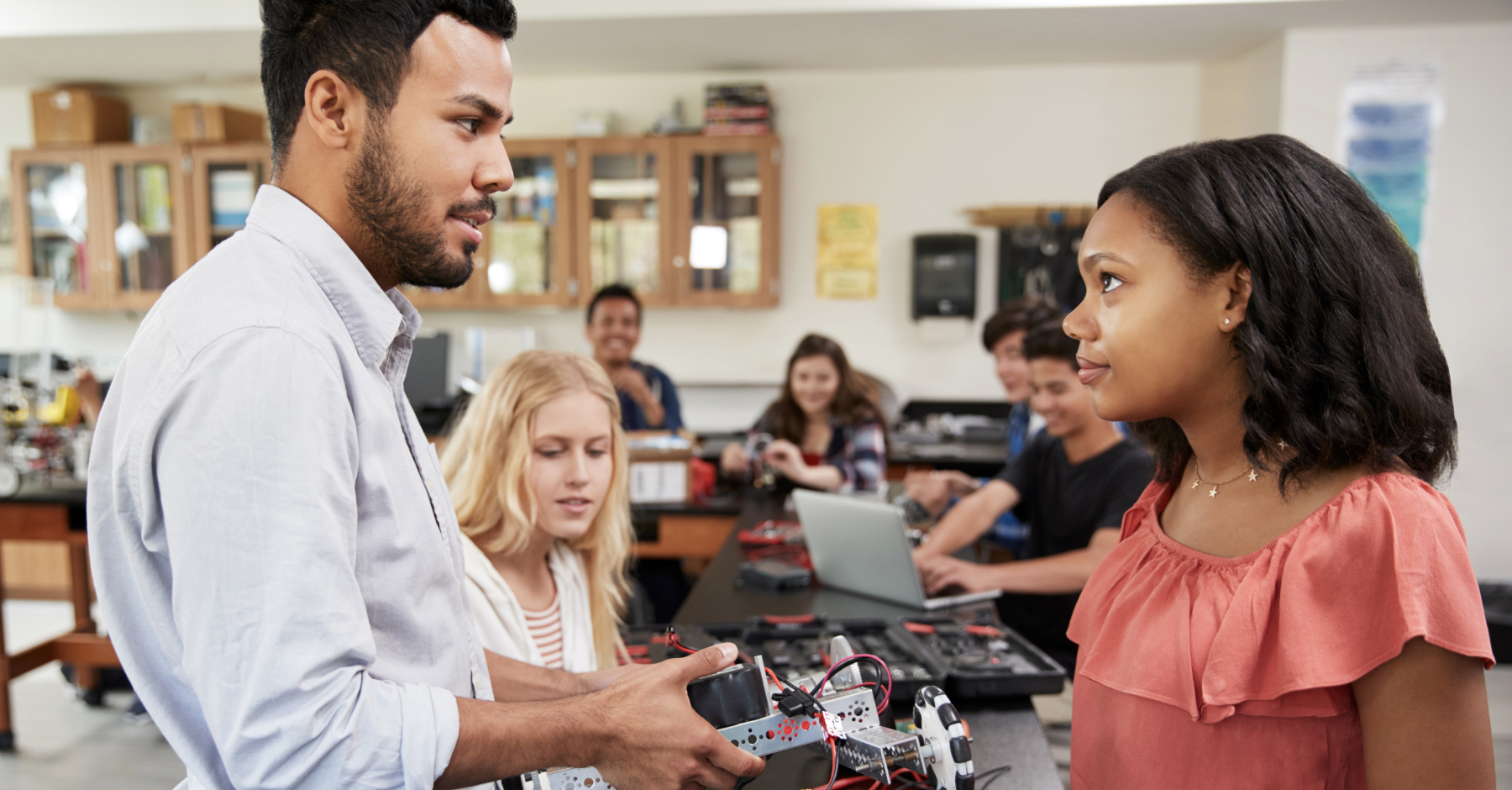 How to Bring FIRST Tech Challenge to Your Students
Individual Team:
Designed for up to 15 students and guided by 2 or more adult mentors, individual teams follow a specific season timeline and are eligible to compete in local and regional events hosted by FIRST Tech Challenge program delivery partners. Learn more about this option here.
Class Pack
Designed to reach up to 30 students at one time, FIRST Tech Challenge Class Packs offer educators a fun, flexible, and convenient way to achieve STEM learning objectives and provide students with a pathway to high-quality, impactful STEM education from FIRST through a digital, project-based curriculum.
FIRST Tech Challenge can be implemented into the classroom as an 18-week robotics course, complement existing curriculum, or be used as a structured after-school program.
---
FIRST Tech Challenge (Grades 7-12)
Class Pack - 30 students
Online access to the FIRST Tech Challenge course curriculum through the Thinkscape Portal for students & teachers


Teacher Lesson Cards
Engineering Notebook Templates
Student Activity Cards

1 Mini Game Kit - includes replica 8 x 8 playing field with two alliance zones from current competitive season challenge.

REV Robotics Education Kit

Required but not included - Can be purchased separately through

FIRST.
This kit includes everything you need to build a basic robot that can be operated autonomously with the Control Hub and tele-op with gamepad.
What you'll get:
Control Hub, Android phone, and necessary wiring
Color and touch sensor
Gamepad
240+ REV metal and plastic pieces including structure pieces, motion pieces, wheels
Rechargeable battery pack and charger
1 core hex motor, 2 smart robot servos, and 2 HD hex motors
Storage bin
Hardware and tools
---
Professional Development
Customized to meet the unique needs of middle and high school educators, teaching them how to guide and challenge their student teams to design, build, program, and operate robots to compete in a head-to-head challenge in an alliance format.  
By the end of the two-day training, participants will: 
Build a robot using a FIRST Tech Challenge kit of parts and learn to program using Blocks Programming tool powered by Googles' Blockly programming language* 
Become knowledgeable in the engineering design process while utilizing and reinforcing the FIRST Tech Challenge Core Values
Through hands-on experience, learn how to guide your students to develop STEM skills and practice engineering principles (keeping an engineering notebook), while realizing the value of hard work, innovation, and sharing ideas
"The hands-on part of building the robot and being able to go through the programming was excellent! The team concept makes it very realistic and practical. I am now much more confident in programming a robot and training our students when the time comes." – Compton, CA Regional participant 
* FIRST Tech Challenge Professional Development does not teach participants to be expert programmers or builders