Innovate, Create, and Share
Engage your students in a range of relevant learning opportunities that will immerse them in research, problem-solving, coding, and engineering with FIRST® LEGO® League Challenge Class Pack.
FIRST® Class Pack helps facilitators guide their students through 12 sessions as they develop, design, build, and code a LEGO® robot that navigates missions of a robot game and develop an innovation project solution to a real-world problem.
Resources available to facilitators include scope and sequence options, which feature variations to customize activities to extend learning beyond the 12 sessions using FIRST and LEGO Education supporting materials.
To ensure students are acquiring knowledge and developing skills that are age- and grade-level appropriate, the FIRST LEGO League Challenge Learning Progression can also be used to validate or assess students' knowledge and skills.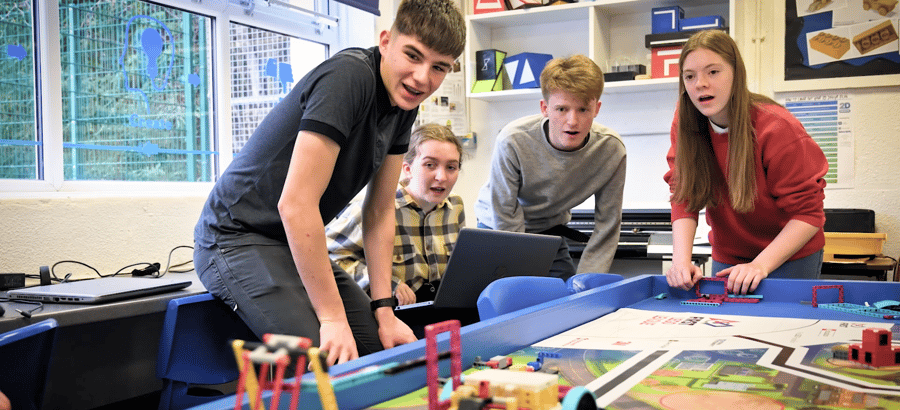 Bring FIRST LEGO League Challenge to your students
Class Pack includes printed materials and digital access to resources through the FIRST Thinkscape portal.
See the program overview here.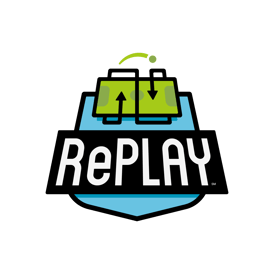 For our 2020-2021 robotics season theme, FIRST® GAME CHANGERSSM, powered by Star Wars: Force for Change, we'll be stepping into the world of sports, play, and fitness – moving, collaborating, competing, and celebrating.
There are opportunities to play all around us. In this year's FIRST LEGO League Challenge season, RePLAYSM, your students will explore the activities we can do in all the different spaces and how we can ensure that our games and activities are fun and accessible for everyone involved.


NEW! Using Google Classroom, you can experience FIRST LEGO League Challenge no matter where your team members and students are learning this season. To complete the activities, each student will need a LEGO Education robot and three (3) RePLAY Mission Models from the RePLAY Challenge Set. Purchase additional Challenge Sets and Mats in the FIRST Dashboard (subject to availability). Check out the Challenge Guide for Distance Education for more!
>Download the guide
Class Pack Includes:
Modification Guidance for COVID-19 Interruptions:

 Regardless of your learning environment this school year, FIRST has created guidance and options to help you engage your students in the FIRST experience. These suggestions and options are not prescriptive, and local health and safety regulations and guidance should precede any of the recommendations in this guide. >Download the guidance
Class Pack Tournament Guide: This digital guide provides guidance, management tips, and best practices for how to implement FIRST LEGO League Challenge in the classroom

and instructions on how to run your own tournament in your classroom or school.



Team Meeting Guide:  This comprehensive guide is printed and also available digitally and provides facilitators with guidance and lesson plans on how to run 12 sessions and end with a culminating celebration. It includes student outcomes, tips, cleanup pointers, and checkpoints to monitor the team's progress. >View a sample
Engineering Notebooks: These student workbooks are used to record ideas, notes, and sketches - printed versions of the books are included with Class Pack, and new this year, static and interactive versions are available digitally through the FIRST Thinkscape Portal. Each workbook provides a guided 12-session experience, including an introduction activity, session tasks, and concluding with the team sharing what they learned and accomplished. >View a sample
Robot Game Rulebooks: These printed and digital guides provide facilitators and students with everything they need for the RePLAYSM robot game. Each guide contains field set-up instructions, descriptions of each mission, and the rules student teams must follow during the preparation, action, and scoring.
RePLAYSM Challenge Sets: Themed field mats and exclusive sets of LEGO® elements to build season-specific mission models.
---
Essential Program Elements
(not included with Class Pack)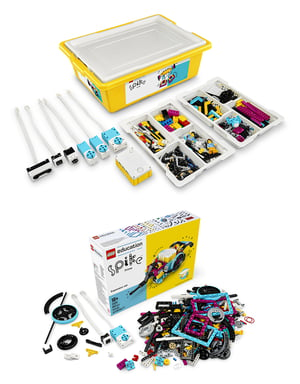 LEGO Education SPIKETM Prime + Expansion Set
Can be purchased through FIRST
Reusable year-to-year, SPIKE Prime combines over 1,100 colorful LEGO building elements, easy-to-use hardware, and an intuitive drag-and-drop coding language based on Scratch. View technical specs and system requirements.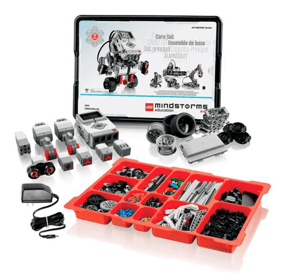 LEGO® MINDSTORMS® Education EV3 Core + Expansion Set
Can be purchased through FIRST
Reusable year-to-year and complete with over 1,000 parts, special elements, programming software, and storage, the LEGO MINDSTORMS Education EV3 Core + Expansion Set includes components needed to build and program a robot. View technical specs and system requirements.
For the best possible student experience, we recommend at least two electronic devices (computer/tablet) per four students.
---
Standards Alignments
FIRST has completed an external analysis and mapping of FIRST LEGO League Challenge to national educational standards. Below is a list of the available standards alignments:
21st Century Skills

Common Core State Standards Alignment (ELA; Math)

Computer Science Teachers Association (CSTA)

International Society for Technology Education (ISTE)

Next Generation Science Standards (NGSS)

Social and Emotional Learning Standards (SEL)

Standards for Technological Literacy (ITEEA)