Connecting to the World Through STEM Learning
Build a strong foundation for computational thinking and engineering skill development with in-classroom and structured after-school options with FIRST® LEGO® League Explore Class Pack or School Pack.
FIRST® Class Pack provides the framework for facilitators to guide their students through 12 sessions where they'll use their Engineering Notebooks to explore the fundamentals of engineering through a real-world problem, learn to design and code, and create unique solutions made with LEGO® bricks and powered by LEGO® Education WeDo 2.0.
Resources available to facilitators include scope and sequence options, which feature variations to customize activities to extend learning beyond the 12 sessions using FIRST and LEGO Education supporting materials.
To ensure students are acquiring knowledge and developing skills that are age- and grade-level appropriate, the FIRST LEGO League Explore Learning Progression can also be used to validate or assess students' knowledge and skills.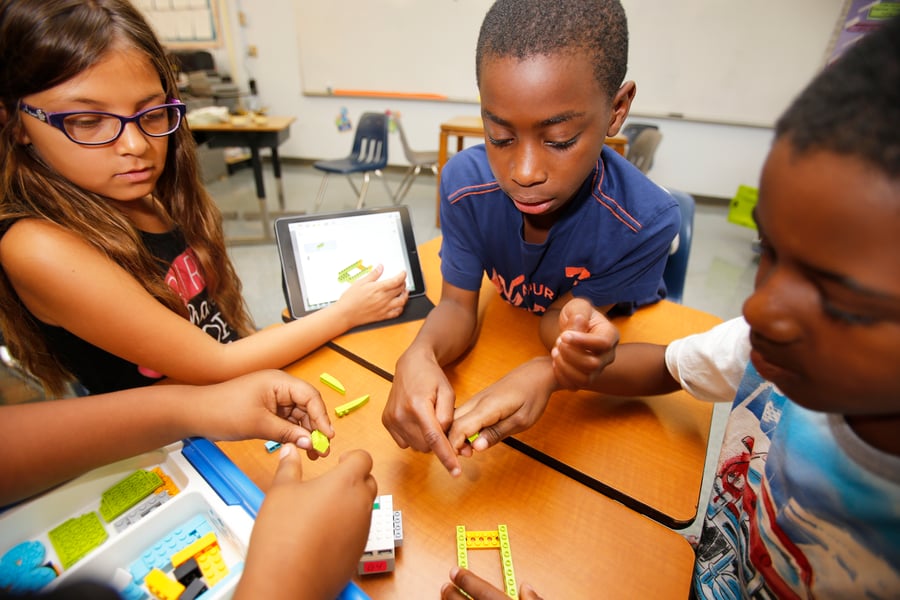 Bring FIRST LEGO League Explore to your students
Class Pack and School Pack options include printed materials and digital access to resources through the FIRST Thinkscape portal.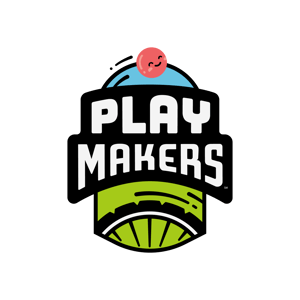 For our 2020-2021 robotics season theme, FIRST® GAME CHANGERSSM, powered by Star Wars: Force for Change, we'll be stepping into the world of sports, play, and fitness – moving, collaborating, competing, and celebrating.
There are opportunities to play all around us. In this year's FIRST LEGO League Explore challenge, PLAYMAKERSSM, your students will explore the activities we can do in all the different spaces and how we can ensure that our games and activities are fun and accessible for everyone involved.
NEW! Using the remote learning platform Seesaw, we redesigned the FIRST LEGO League Explore experience to allow students to have a full and exciting STEM experience at home. To complete the activities, each student will need the PLAYMAKERSSM Explore set and internet access (the LEGO® Education WeDo 2.0 set is optional). Purchase additional Explore sets on the FIRST Dashboard (subject to availability). Check out the Explore Guide for Distance Education for how to incorporate into your learning environment. >Download the guide
Class Pack and School Pack Include: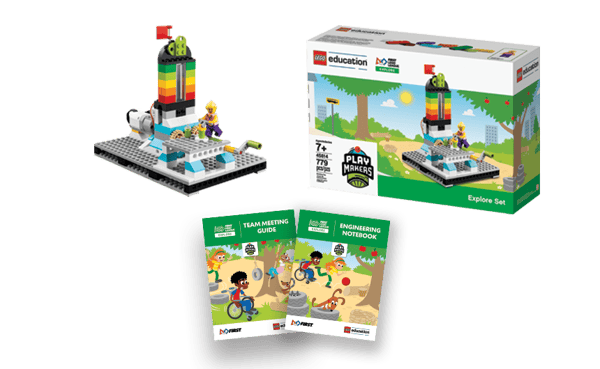 ---
Essential Program Elements
(not included with Class Pack)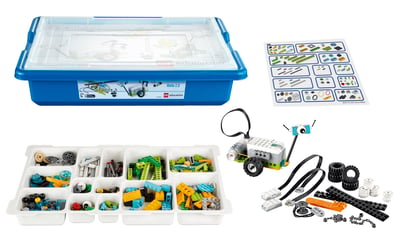 LEGO Education WeDo. 2.0 Core Set 
Can be purchased separately through FIRST. 
The reusable LEGO Education WeDo 2.0 Core Set is a hands-on STEM solution that combines the LEGO brick, classroom-friendly software, engaging standards-based projects, and a discovery-based approach. Designed with collaboration in mind, each Core Set supports introducing students to computational thinking and engineering principles in a fun and engaging way. View technical specs and system requirements.
For the best possible student experience, we recommend having at least one Bluetooth-enabled electronic device (computer/tablet) per four students.
---
Standards Alignments
FIRST has completed an external analysis and mapping of FIRST LEGO League Explore to national educational standards. Below is a list of the available standards alignments:
21st Century Skills

Common Core State Standards Alignment (ELA; Math)

Computer Science Teachers Association (CSTA)

International Society for Technology Education (ISTE)

Next Generation Science Standards (NGSS)

Social and Emotional Learning Standards (SEL)

Standards for Technological Literacy (ITEEA)