Robotics Engineering Curriculum
Incorporate hands-on learning, career exploration, and workforce and industry-ready skills into your classroom or after-school curriculum using the FIRST Tech Challenge Class Pack curriculum and resources.
This flexible, interactive curriculum helps students develop teamwork, critical thinking, and problem-solving skills while exploring engineering concepts through simulations, knowledge checks, and assessments.

Students will be challenged to design, build, and program a robot to compete in a class mini game based on the 2023-2024 competitive game, CENTERSTAGESM presented by RTX. As they collaborate on their robot, they will apply skills learned throughout the curriculum such as designing mechanisms and programming algorithms.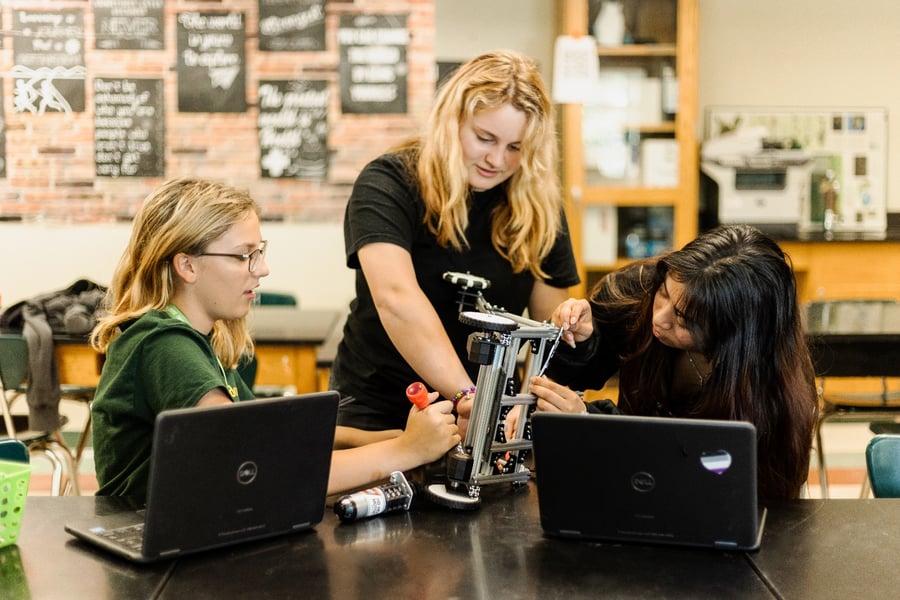 What's included with your FIRST Tech Challenge Class Pack

Registration

:
The 2023-2024 Class Pack curriculum is available in both English and Spanish.
Year-long Robotics Curriculum including:

FIRST® Thinkscape Learning Management System Access: Digital lesson plans and curriculum access from August 2023 – September 2024.
Interactive digital student learning models

Teacher guidance including scenarios and modeling for

student modules

Videos to support teachers in delivery of the curriculum through modeling

Assessment rubrics for robot design, the engineering notebook, and career readiness

Engaging Kahoot! knowledge checks

Integrated physics simulations with robotics applications

Guided downloadable engineering notebook for team activities
Mini Game Kit:

Set-up manual, game-play instructions, and game and scoring elements to replicate the competitive environment in a taped-off 8x8 area based on the 2023-2024

FIRST

Tech Challenge game, CENTERSTAGESM presented by RTX.

Digital Student Badges through Tallo: Earned by students as they demonstrate skills and competencies.
Request a demo of the FIRST Tech Challenge curriculum in Thinkscape and view our scope and sequence options for this year-long course, which can be adjusted based on student needs and to coincide with a competitive qualifying season or independent classroom experience. >See the overview.

FIRST Tech Challenge Class Pack maps to state and national education standards. >View available standards alignments.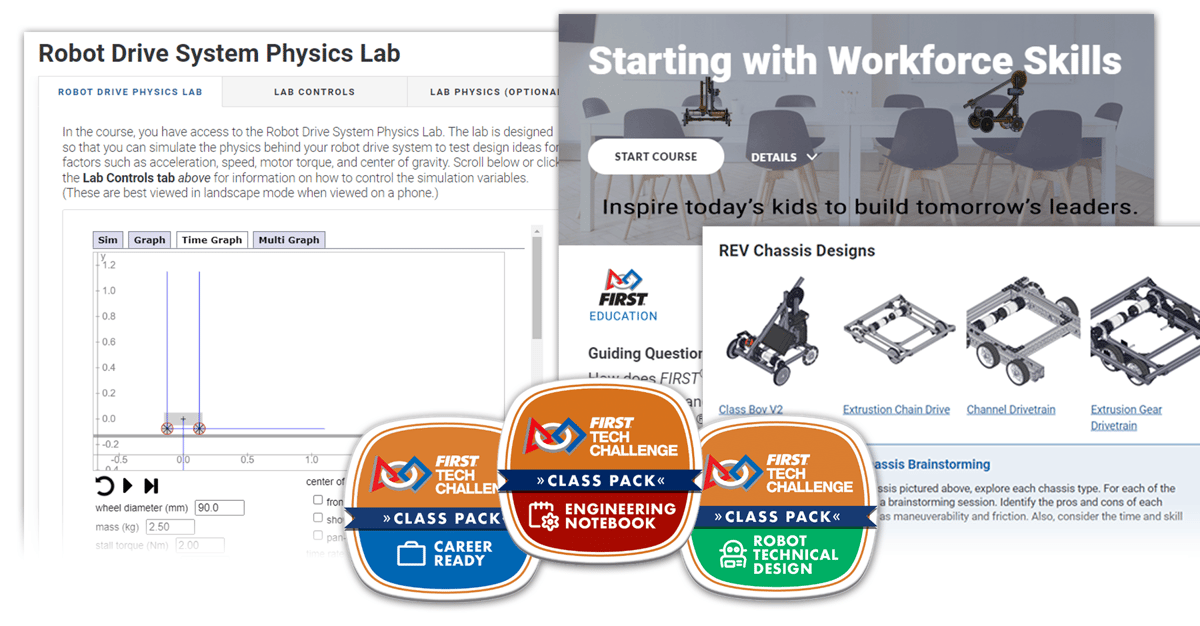 ---
Essential Program Elements
Not included with Class Pack registration and can be purchased separately through the FIRST Dashboard (U.S. and Canada) or Rev Robotics (Australia, Greece, Mexico).
REV Robotics Education Kit


This kit includes everything you need to build a basic robot that can be operated autonomously with the REV Control Hub and tele-op with gamepad. View technical specs and system requirements.
This kit includes:
REV Control Hub, REV Driver Hub, and necessary wiring

REV V3 Color Sensor

REV Touch Sensor

Webcam

Gamepad

180+ REV metal and plastic pieces including structure pieces, motion pieces, and wheels

Rechargeable battery pack and charger

1 core hex motor, 2 smart robot servos, and 2 UltraPlanetary Gearbox Kit & HD Hex Motor

Storage bin

Hardware and tools
We recommend no more than three (3) students per robot kit to provide all students an opportunity to practice coding and building during your sessions.
REV Robotics Education Robot Upgrade Kit (optional)
The REV Robotics Education Robot Upgrade kit allows customers to expand their existing education robot kit and take a deeper dive into the two-semester curriculum with extended builds and sensors.
This optional kit includes:
Additional gamepad
Servo
Core Hex Motors
Wheels, gears, chain, sprockets to increase functionality
Educator Resources
Individual Team Registration Grant
Continue the FIRST experience by registering a FIRST Tech Challenge individual team using the FIRST Individual Team Registration Grant. With each FIRST Tech Challenge Class Pack purchase, you are eligible to receive one rookie (first-year) individual team registration grant for a discounted price. Individual Teams are made up of up to 15 students and participate in season events run by local Program Delivery Partners with the potential for progression to regional or national championships. View Team Grant application and details.