Hi Friend,
2020 Kickoff: The 2020 FIRST® Robotics Competition Kickoff is this Saturday, January 4, 2020! We have some important details concerning the INFINITE RECHARGESM Kickoff and Season to share with you:
Friday, January 3: Tune in to our FIRSTtv

at 6:30 p.m. ET

for a behind-the-scenes look at Founder Dean Kamen's house and exclusive interviews with Dean at DEKA Research

& Development to learn about the IBOT, the Dialysis Machine, the Luke Arm, and more

!
Sunday, January 5 at 1 p.m. ET: More in-depth look into the Kit of Parts with

Engineer Ted Hood and

host DeejayKnight! This show is also on FIRSTtv.
For more information please check out the FIRST Robotics Competition blog.
**TIME SENSITIVE** Don't forget to take inventory of your Kickoff Kit! After receiving your Kickoff Kit, please check all items to determine if parts are missing or damaged. If so, you can let us know by noon ET on Friday, January 10, and we'll ship replacements. This is a time-limited, one-time-only opportunity. Details on how to complete the missing parts process are

here

.
The encrypted Game Manual as well as other important documents for the season have been posted on the Game and Season page. The Encryption code will be available on Saturday, January 4 at the end of the Kickoff broadcast. You may want to download those documents now so you will be ready when the time comes! See this blog post for more details.
Team Support Available on Kickoff Day: Team Support will be available on Saturday, January 4 from 9 a.m. to 12 p.m. ET. For assistance, please call 1-800-871-8326.
Reminder! Mark your Calendars: FIRST® Choice Round 2 opens this Saturday, January 4 at noon ET, and closes Thursday, January 9 at noon ET. For more information please visit this page.
Deadline coming soon! 2020 Apple Engineering Technology Summer Camp: Please complete your initial application online here by 11:59 p.m. ET on Monday, January 6, 2020.
There are limited nominations available, and not all applicants will receive the opportunity
Decisions are not subject to further review, nor will late applications be accepted
FIRST will review all applications and select nominees to receive the full Apple application in early January
All applicants will be informed of their status via email by January 15, 2020
Don't forget about Awards during the build season! Be sure to check the Awards page for submission details and deadlines. Keep up to date with all important season deadlines by visiting the Season Calendar throughout the year.
Are you ready for INFINITE RECHARGE? Celebrate FIRST® RISESM, powered by Star Wars: Force for Change, with limited-edition apparel and accessories featuring your favorite droids.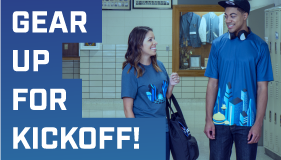 As always, we are here to help. Please contact our
Customer Support Team
with any questions.
Sincerely,
FIRST® Robotics Competition Team Support