Hi Friend,
Program Updates, Deadlines & Reminder
Prepare for Kickoff with this FIRST® Robotics Competition blog: Get hyped! The FIRST Robotics Competition Kickoff presented by Novelis is so close. Read this blog to learn about the day-of details, updates on the wood field list of materials, and information on acquiring official field elements and game pieces post-Kickoff.
Holiday Hours
:
FIRST
®
 Headquarters will close at 3 p.m. Eastern Time on Friday, December 23, 2022
,
and will remain closed until Tuesday, December 27, 2022, when our normal business hours resume at 8:30 a.m. Eastern Time.
Community Engagement
Celebrate Kickoff in FIRST style with exclusive FIRST ENERGIZESM presented by Qualcomm gear, now available in the FIRST store!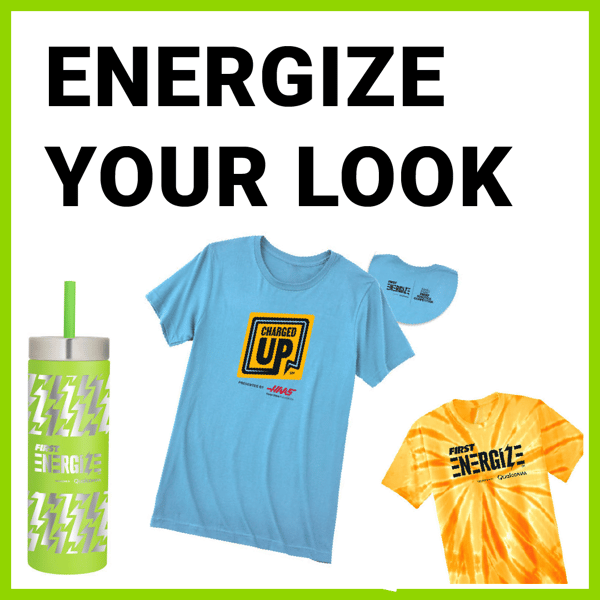 FIRST Championship Conferences: We are accepting presentation proposals for the 2023 FIRST Championship Conferences on topics of interest related to FIRST that are relevant for an audience of coaches, mentors, educators, parents, and prospective leaders. We encourage presentations in all technical and non-technical areas of FIRST programs. The 2023 FIRST Championship Conferences will be held in-person and presentations should fit into the following categories:
🤖Discovery  – Sessions in this track should explore new skills and ideas.
🤖Innovation – Submissions for this track should be on topics that spark creativity and help solve problems for your audience.
🤖Impact – Sessions in this track will explore developing knowledge for communities to improve our world.
🤖Inclusion – Submissions in this track should demonstrate strategies for inclusivity and equity.
🤖Teamwork – Sessions in this track will help build more robust cooperation and leadership capacity.
If you are interested, please submit your ideas on or before Friday, February 10, 2023. Travel and accommodations will not be provided by FIRST. There is no registration fee for attending championship conferences. Please direct questions to championshipconferences@firstinspires.org.
FIRST®
Robotics Competition Team Support