Hi Friend,
FIRST® Headquarters closing for a Fall Holiday: FIRST Headquarters will close at 3:00 P.M. ET tomorrow, Friday, October 5. The office will remain closed through Monday, October 8 for a Fall Holiday. Regular business hours will resume on Tuesday, October 9 at 8:30 A.M. ET.
Deadlines and Season Schedule: As your team continues to plan for the DESTINATION: DEEP SPACE presented by The Boeing Company season, make sure to utilize the Season Calendar. Here are some important dates coming up for the month of October:
Drive Base Opt-Out: Veteran teams who are "Event Ready" are able opt out of receiving the Drive Base Kit in exchange for a $450 AndyMark Voucher. The option to opt-out of the Drive Base Kit will close at 12:00 P.M. (noon) ET on Tuesday, October 9, 2018. More information on the opt-out as well as other Kit of Parts information was posted in this recent blog post.
Kit and Kickoff Registration: Kit and Kickoff registration opens on Tuesday, October 9 at 12:00 P.M. (noon) ET.
Second Preference Round: The Second Preference Round will be open from Thursday, October 11 12:00 P.M. (noon) ET through Thursday, October 18, 2018 12:00 P.M. (noon) ET.
Still have questions on event preferences? Reference the user guide, check the FAQ, or email us at firstroboticscompetition@firstinspires.org.
Robot Transportation Exemption Requests:
 We are continuing the Robot Transportation Exemption program in 2019, which allows teams to request assistance in shipping their robots to Regional events (if transporting their robot to the event themselves would be a hardship). For information on the criteria, along with how to apply for a Robot Transportation Exemption, visit the
Robot Transportation
page.
Regional and District Event Housing Now Open!
Make your event experience even better – book with FIRST. We're preparing the resources and discounts you need to book with ease, so you can prepare for the season ahead! When you book with FIRST, you:
Stay close to Regional, District, or FIRST Championship events.
Receive guaranteed low rates at FIRST-reviewed and sanctioned hotels.

Enjoy special contracted amenities at most hotels including complimentary Wi-Fi, breakfast, and parking.

Earn reward points from your preferred hotel chain.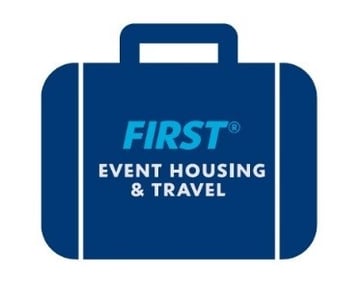 Tune into Twitch Weekly:
The
next episode
airs Tuesday, October 9 at 7:00 P.M. ET.
Google Science Fair
: The
Google Science Fair
is an online global competition for 13-18 year olds that inspires teens to solve real-world problems through the application of science, technology, engineering and math. This year, students will be competing for a $50,000 grand prize scholarship along with exciting travel prizes from our co-sponsors LEGO Education, National Geographic, Scientific American and Virgin Galactic. You can find more inspiration and support on the websites at
www.googlesciencefair.com
. The competition is open until
December 12, 2018
.