Hi Friend,
Coming to you from FIRST® LEGO® League in Manchester, NH, USA.
QUOTE OF THE WEEK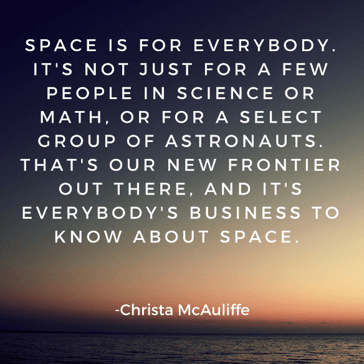 WHAT EVERYONE'S TALKING ABOUT
All Systems Go!

We released the INTO ORBIT
SM
Challenge into the universe on Wednesday, and we're so excited to see what teams discover this season. Find the
Challenge info here
, and make sure to review the
Challenge Updates
document throughout the season. The official competition season begins Nov. 1 in North America – check with your
local partner
for event information.
Creating a Diverse, Inclusive, & Equitable Community
At
FIRST®
, we're committed to creating a diverse, inclusive, and equitable community for all our participants. Watch this
compelling, short video
to see how you – as a coach or mentor – can ensure that you are inspiring success for your team.
Unboxing the Challenge

As the INTO ORBIT season blasts off and teams begin to receive their Challenge Sets, we want to see your team's initial reactions. Share your unboxing photos and videos with us with a tweet to
@firstlegoleague
or an email to
fll-media@firstinspires.org
.
CELEBRATION and SHOUT-OUTS
Congratulations to Team 13048, The Pratt Ro-Cats, from Boonville, NY, USA!
They're the winners of the #IOGuesstheMissions Contest! Check out their video, along with all the #IOGuesstheMissions videos,
here.


The fine print
Stay on the lookout for communications from your local FIRST LEGO League Affiliate Partner to keep up with the news and events nearest to you.
Links
Challenge I FIRST forums | Twitter | YouTube | Blog | FIRST Steps | Pinterest