The nature of traditional sports is shifting. In any sport, we use our minds — our creativity, imagination, and critical thinking — as much as we use our muscles. Our robotics season challenge theme represents the potential in all of us to redefine the game and exceed our team and personal potentials through the only sport where every kid can go pro.
Get started by signing up below to receive details about the season, resources for remote participation, and how your team can join our dynamic, hands-on robotics program.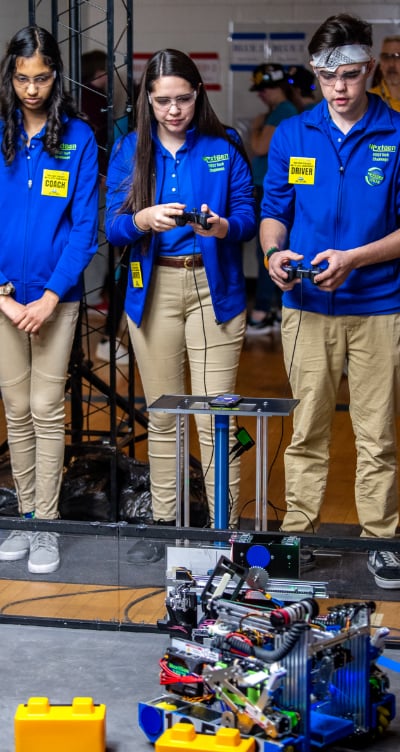 ULTIMATE GOALSM


presented by Qualcomm
In every game we play, we set out to make ourselves a collaborative teammate, a respected competitor, and a stronger person. No expectations are greater than those we place on ourselves — it's our passion that drives us forward.
In ULTIMATE GOAL, FIRST Tech Challenge teams will develop strategy and build robots based on advanced engineering principles to compete in tournaments, building 21st century life skills and earning achievements for their robot design, community outreach, and other team accomplishments.
Participants will become teammates at the top of their game, competing in a thrilling sport — to score, to win, and to leave a legacy that lasts. They'll learn how to work together to recover from failure, build confidence, and champion each other to exceed team and personal potentials.
It's time to be a game changer. Are you up for the challenge? Join the FIRST Tech Challenge community for ULTIMATE GOAL, part of the 2020-2021 FIRST robotics season, FIRST® GAME CHANGERSSM, powered by Star Wars: Force for Change.
FIRST® TECH CHALLENGE
FIRST Tech Challenge students learn to think like engineers. Teams design, build, and program robots to compete against themselves and other teams. Robots are built from a reusable kit of parts, powered by Android technology, and can be coded using a variety of levels of Java- and Blocks-based programming. High school students gain access to exclusive scholarship opportunities from colleges, universities, and technical programs.
A group of up to 15 students (ages 12-18) and at least two adult mentors make up a FIRST Tech Challenge team. Prior technical experience is a plus, but not required, and all skill levels and interests are welcome. We have resources available for fundraising, programming, robot building, and a mentor manual to help you get started and have an amazing season.
Please note FIRST does not match children to our existing teams due to our privacy policy. We encourage individuals looking for a team to contact their local schools, libraries, or youth organizations that may have a team in place or interest in starting one.
Season registration ($275) includes the 2020-2021 team participation fee, access to resources for team management and career readiness, and team member access to the FIRST Scholarship Program.
Your team will also need a reusable robotics kit (approximately $1,200), which can be purchased through FIRST for discounted access to control system components and build kits. We also recommend an electronic device, such as a laptop, for your team to program their robot.
Does not include applicable tax or shipping.
The FIRST Tech Challenge season culminates with local and regional events, run by FIRST Program Delivery Partners, which may include physical, remote, or a combination of physical and remote elements.
Teams present their engineering notebook and robot design to compete for awards and put their hard work to the test on the playing field in a season-specific game. Events vary by region and run from October-April.
Team Registration does not include registration for local events or guarantee that events are available in your area. Partners may charge an additional fee to participate in their events, and those fees are set and collected by the Partner.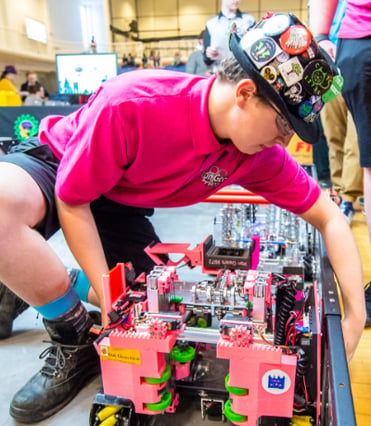 Bring FIRST to your Classroom or After-school Program
Head over to our Class Pack website for information on FIRST PreK-12 program implementation options for 30+ students
FIRST IS More than just robots…
Evidence from our ongoing longitudinal study is demonstrating that FIRST is meeting its mission goals to increase the number of young people interested in STEM – and their interest extends beyond their participation in the program to their educational and career choices. In addition to gains in STEM outcomes, FIRST participants develop skills in teamwork, problem solving and communication, preparing them for success in school and the future workforce.