Registration for the 2021 season, INFINITE RECHARGESM is open. Get started by signing up below to receive details about the season and how your team can join our inspiring robotics program.
While this season will look different, we are confident the new team-based opportunities outlined below will allow our participants to have a fulfilling season, as we continue to execute the mission of FIRST and inspire the next generation of our future science and technology leaders – the same mission that has guided us for more than 30 years.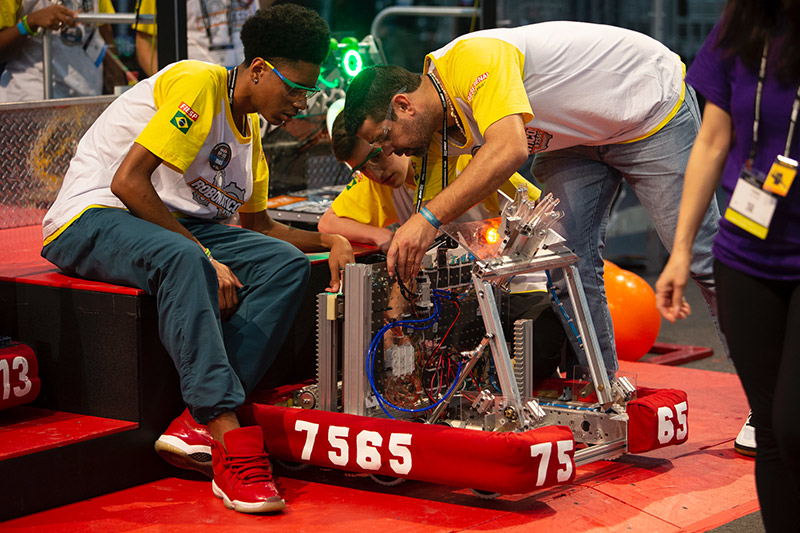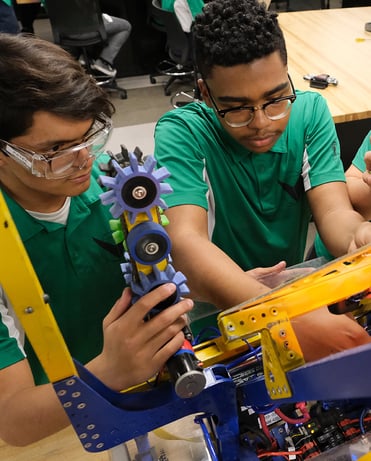 FIRST® Robotics Competition
FIRST® Robotics Competition combines the excitement of sport with the rigors of science and technology. Teams of students are challenged to design, build, and program industrial-size robots and compete for awards, while they also create a team identity, raise funds, hone teamwork skills, and advance respect and appreciation for STEM within the local community.
Volunteer professional mentors lend their time and talents to guide each team. It's as close to real-world engineering as a student can get. Plus, high school students gain access to exclusive scholarship opportunities from colleges, universities, and technical programs.
10 or more students (ages 14-18) and 2+ adult mentors of all skill levels and interests typically make up a FIRST Robotics Competition team. We recommend at least one mentor with technical expertise and two or more adult mentors to help with administration, fundraising, and community outreach.
For those teams who can meet in-person, you will need to find a meeting place and space to design and build an industrial-sized robot (about 150 lbs.) that has access to some machine shop power tools. Be sure to consider local ordinances regarding social distancing when selecting a space to work. During a typical year, many teams meet in school workshops, local business machine shops, or home workshops.
This season, teams who don't have access to build spaces due to COVID-19 restrictions can still participate meaningfully in the program outlined in the Season section.
Please note FIRST does not match children to our existing teams due our privacy policy. We encourage those looking for a team to contact their local schools, libraries, or youth organizations that may have a team in place or interest in starting one.
Season registration fee ($2,000 for veteran teams and $3,000 for new rookie teams) includes the kit of parts, eligibility for participation for at home or virtual activities (see below), and eligibility to register for in person-event, if/when available.
All costs for individual team members are assumed by the team as a group. FIRST offers many fundraising tools, as well as grants to teams who qualify.
We are excited to introduce new opportunities for FIRST Robotics Competition teams to participate this season, including:
• Game Design Challenge: Design a new FIRST Robotics Competition game and compete for judged awards
• FIRST Innovation Challenge presented by Qualcomm: Identify a real-world problem, design a solution, build a business model, and deliver a remote pitch for judged awards
• INFINITE RECHARGESM at Home: Demonstrate INFINITE RECHARGE robot performance remotely and compete for judged awards
Read more on what to expect for the 2021 FIRST Robotics Competition season on the Inspire Blog.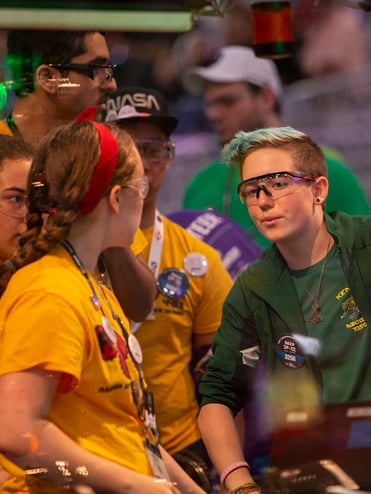 FIRST IS More than just robots…
Evidence from our ongoing longitudinal study is demonstrating that FIRST is meeting its mission goals to increase the number of young people interested in STEM – and their interest extends beyond their participation in the program to their educational and career choices. In addition to gains in STEM outcomes, FIRST participants develop skills in teamwork, problem solving and communication, preparing them for success in school and the future workforce.